A Nigerian man named James Babarinde Adeosun, the founder of the burnt car mart known as Pillar AutoMobile narrated the sad event that happened on Wednesday 19, December 2018 as a devastating day.​ Read his story below.
As a result of the horrible activities of pipeline vandals in the midnight of Tuesday 18 stroke Wednesday 19 December 2018, after their illicit act,​ PMS leaked into the gutters and traveled unbelievably past my car lot at Abule Egba, then towards abattoir Agege, Cut Fire at Agege where Hausa men are burning cattle hide and skin (panmo) and then the fire traced back the fuel to Awori but unfortunately at the exact loci of my car mart the fuel rose above the gutter and flooded my car mart, this was exactly how my entire office,​ my labour, my sweat for more than a decade gut totally engulfed and burnt beyond salvage.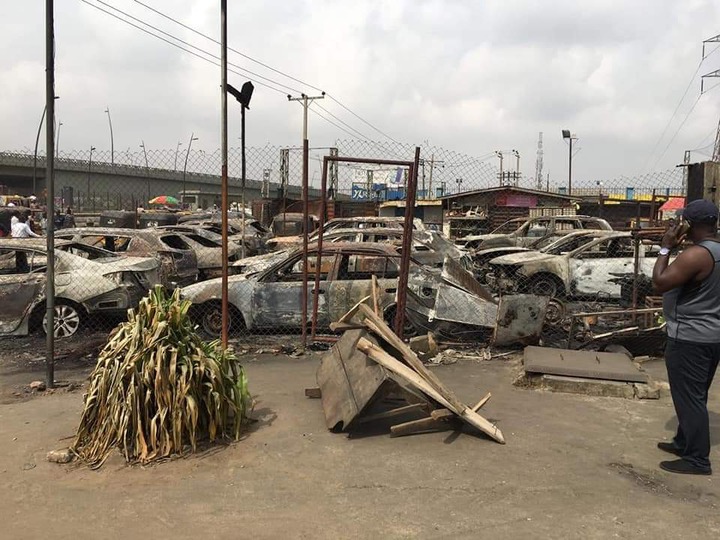 At the sight of the magnitude of the fire disaster that left my car mart in ruins,​ the only thing left to be salvaged as bitter tears rolled down our faces was the memories of how I laboured for 12 years, the memories of many unemployed graduates that I have trained to be an independent successful car dealer today, the memories of how I welcomed with opened arms several car dealers who haven't been able to afford an office space to use my car mart as though it was theirs', the memories of how my business was and the reality of the present.​
I can't believe I am back to zero after working tirelessly with due diligence and integrity for 12 years. Unfortunately, my car lot was totally engulfed & destroyed overnight with properties worth close to 96m.
I'm calling out to all Nigerians to please help me reach out to the Government to save my life. ​My Name is James Adeosun, chairman, PILLAR AUTOMOBILE. I have been interviewed by media houses and it's on page 58 of Sunday PUNCH newspaper of 23 December 2018.
I will appreciate in any way you can help me with your good heart in reaching out to Government. I strongly believe that the collective cry and clamour of all Nigerians will reach the ears of the government. Please help me reach who so ever you can reach and God will bless you all.